The perfect base to build on
Market-leading transport efficiency goes beyond an excellent driveline. It is also about weight savings and extra room for auxiliaries, which add to vehicle versatility and the most cost-effective operation. The DAF CF offers unmatched flexibility when it comes to chassis configurations, whether it is equipped with a hooklift system, flatbed, box body or any other superstructure.
Pure Excellence extends to the DAF CF's well-thought-out chassis. Made from high-quality steel, it is both light and strong.
The Stabilink rear axle suspension ensures optimum roll stability, highest payloads and superb handling.
Lower weight increases fuel savings and allows higher payloads for greater transport efficiency.
Easy fitting for any application
Components can be positioned to match your requirements perfectly. And thanks to the new ultra-compact EAS unit, which is 40% smaller than before, there is ample space for mounting pumps, crane leg supports or large fuel tanks.
The highly flexible chassis layout allows almost endless variation when it comes to positioning components.
The smart chassis layout enables fuel tank volumes of up to no less than 1,500 litres on tractors.
The DAF CF's versatility is further enhanced by an extensive Body Attachment Module (BAM) programme that bodybuilders will love. There are dedicated preparations for cranes up to 25 tonnes and for box bodies. In addition, new and extended hole patterns at the rear of the chassis, allow quick and optimal mounting of the superstructure.
BAM programme enables faster bodybuilder throughput time and reduces build costs.
Fast, easy positioning of rear under run protection, tippers, cranes and tail lifts adds to unmatched bodybuilder-friendliness.
The Electronically Controlled Air Suspension (ECAS) has been completely renewed for class-leading comfort, functionality and reliability. The new system allows excellent pressure management of air bellows, guaranteeing the best possible vehicle stability, also when loading and unloading. In addition, thanks to ultra-accurate measurement and compensation of axle load variances, overload of the axles can be prevented. The new control unit makes DAF's first-class ECAS system extremely easy to operate.
New ECAS offers class-leading comfort, functionality and reliability.
The DAF CF offers excellent vehicle stability under all circumstances, including loading and unloading.
Unequalled user-friendliness is a joy for every rider.
The DAF CF in more detail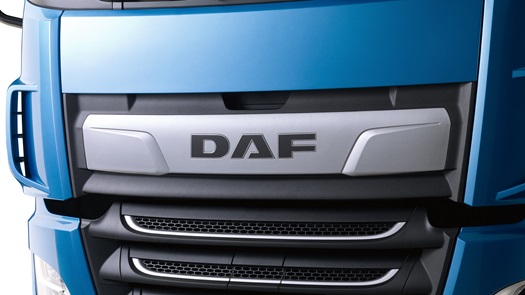 The DAF CF's exterior includes leading-edge design features that put in a class of its own when it comes to visual appeal.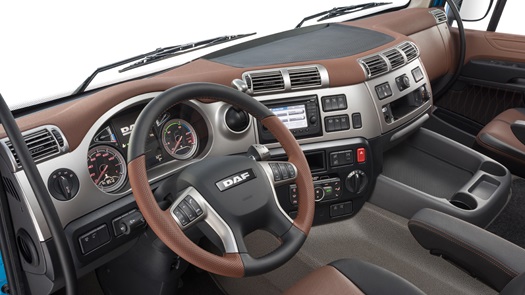 The benchmark for driver comfort
Because the DAF CF is the most versatile truck on the market, there are many options to customise the cab both to personal taste and transport needs.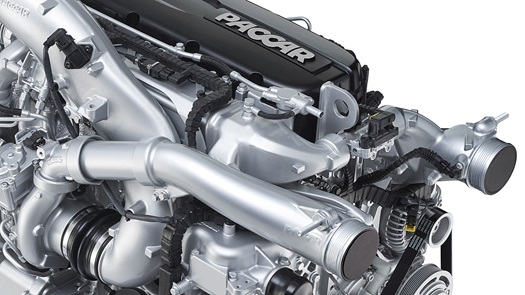 Achieving up to 7% extra fuel efficiency and as a result up to 7% lower CO2 emissions starts by having the right driveline for the job.
Efficiency starts with the right choice of truck, tailored to your specific application. Configure your cab, colour, exterior, driveline, chassis and more with the 3D DAF Truck Configurator.