Battery Electric Vehicles
Zero-emission transport solutions
More and more European municipalities are announcing that in the future, inner-city areas will only be accessible to zero-emission vehicles — making fully electric trucks an important proposition. Fully electric solutions also offer the transport sector an opportunity to play its part in helping to meet the challenges of global warming and local air quality.
The CF Electric is the ideal solution for round-the-clock deliveries to city supermarkets, refuse collection in residential areas or a shuttle service between two production facilities.
The LF Electric is ideal for multi-drop and local distribution within urban centres and surrounding areas.
DAF supplies a complete solution
DAF is a leading provider of electric trucks. We were one of the first European truck manufacturers to successfully bring a fully electric truck onto the market. But at DAF, electric driving is about much more than just finding the right truck for a specific application. Electric driving also encompasses efficient charging systems, robust electric motors, electric PTO options and more. It all starts with an extensive consultation process. One of our electric vehicle specialists will use advanced route simulation programmes to demonstrate the use of an electric truck like in your daily business: for your routes, your journey planning and for your fleet management.
Proven technology
It's important to remember that the technology behind electric powertrains has been thoroughly tested. DAF has been supplying fully electric trucks for several years now, acquiring many hundreds of thousands of kilometres of practical experience. The excellent quality and reliability for which DAF is famous, are also features of our electric vehicles.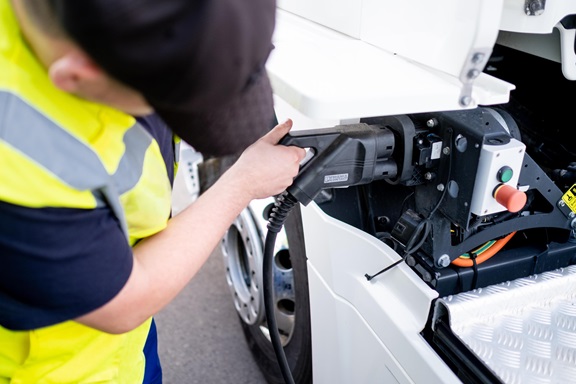 Charging at a home depot
For distribution in inner city areas, electric trucks are the ideal solution. At night, these trucks return to their home base, where their batteries can be fully recharged. Modern batteries support a geographical range that's usually more than sufficient for a day of standard use. Electric trucks are also ideal for shuttle transport – moving goods continuously between fixed locations. Batteries can be charged while the trailer or body is loaded and unloaded, adding to your transport efficiency.
Reduced CO2 footprint
When using green energy, electric trucks can also reduce your transport operations' CO2 footprint, as well as help you achieve your sustainability goals. In addition, electric powertrains are very quiet, which is ideal for evening or night-time deliveries.
DAF is on hand to help you select the right charging systems for your batteries. We work in close collaboration with leading suppliers and there's a wide choice of charging stations and capacities. We also develop customised training to help your drivers get the most out of your electric truck. This is just another example of how DAF does more than simply supply the best trucks.
It's true that electric trucks are still more expensive than their diesel counterparts, but it's worth investigating what local and national government incentive schemes may be available to you. It's also important to work out how you can benefit from lower energy costs. No matter how you look at it, an electric truck will ultimately give you unlimited access to environmental zones, both now and in the future. Quiet, zero-emission trucks demonstrate your company's commitment to the environment. What's more, they're good for your business and good for the world in which we live.
"Planning and driving with electric trucks requires a different mindset. You have to ensure that the job fits the truck and not the other way around. For optimal use of the truck it is important that you can recharge the batteries while loading and unloading. The electric truck can be an excellent alternative for urban distribution."
Eveline Manders
Tinie Manders Transport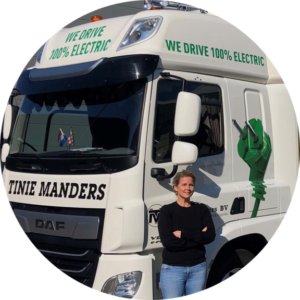 The modern combustion engine is becoming even cleaner and more sustainable, also thanks to the arrival of new generations of fuels
Combining the best of both worlds: fully electric in urban areas and clean diesel technology everywhere else
An option in the long term for powering trucks