Up to 10% fuel efficiency gain
With the New Generation XF, XG and XG+, DAF is introducing a new benchmark in transport efficiency. The sophisticated long haul vehicles feature an aerodynamic design which is leading the way in the industry. Also significant innovations to the PACCAR MX-engines, TraXon automated transmission and DAF rear axles contribute to a fuel efficiency gain of up to no less than 10%. Low vehicle weight and excellent serviceability contribute to class-leading payload and uptime.
Up to 10% fuel
efficiency gain
Excellent aerodynamic performance is a cornerstone of the New Generation DAF trucks. Following extensive simulations and road tests, an extremely low air drag is realized by perfectly guiding wind around, through and under the truck. The result is a 19% improvement in aerodynamic performance, which boosts your fuel efficiency and your bottom line.
High-end driveline performance
DAF is introducing a new generation of 10.8 and 12.9 litre PACCAR MX engines in the new DAF XF, XG and XG+. With more torque and several new technical innovations that lift efficiency to an even higher level. The innovations are almost too numerous to mention, but they include:
a new engine block and cylinder head
newly designed injectors
a next generation turbo compressor
Engine Aftertreatment System
The Engine Aftertreatment System (EAS) delivers great performance, thanks to a new design and routing. A newly designed exhaust-over-chassis adds to minimise heat loss between engine and EAS even further for maximum efficiency..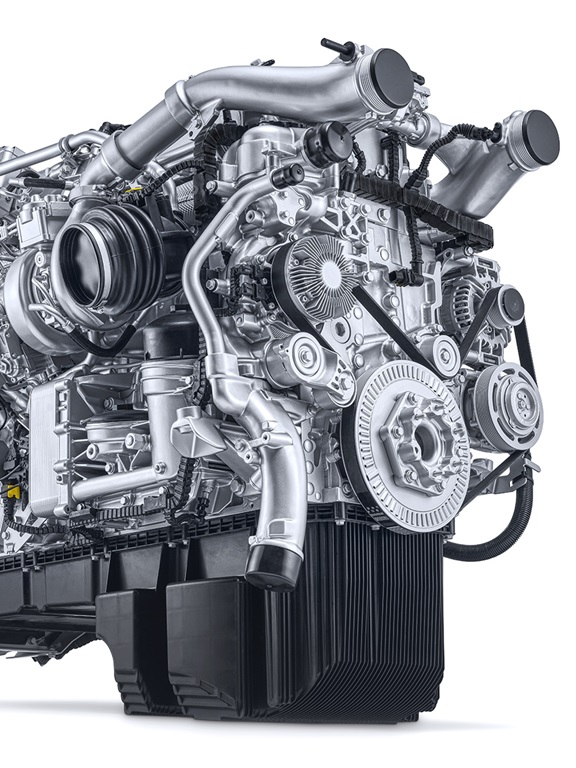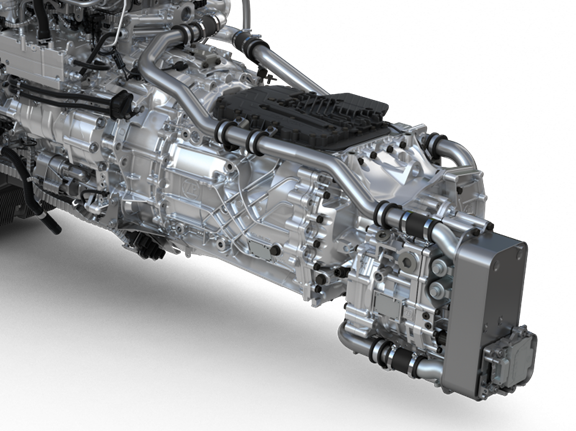 New-generation transmissions
DAF New Generation trucks have TraXon automated gearboxes fitted as standard to deliver an efficient, environmentally-friendly driveline with great drivability. New key technologies include automatic drive-off gear selection, enhanced predictive features and (optional) urge-to-move.
Smart fuel controls
New predictive functionalities of the TraXon gearbox also include the latest generation Predictive Cruise Control and new EcoRoll functionalities that allow up to 93 km/h at the end of a descent. Optimised EcoRoll prevents unnecessary braking and resulting energy losses. In addition, Preview Downhill Speed Control, combined with the improved MX engine brake, removes the need for an Intarder, reducing overall vehicle weight and adding to your efficiency.
Highly efficient rear axles
The New Generation DAF trucks are available with 8 and 9 tonnes front axles and a wide range of 11.5 and 13 tonnes driven rear axles with or without hub reduction and in combination with pusher or trailing axle if required. A full range of rear axle ratios ensures the best possible efficiency for every application. To further optimize efficiency, reduced oil levels and new pinion bearings reduce friction losses. A new generation brake calipers is applied which are lighter and even more robust, while new Active Caliper Releases prevent friction losses when the brakes are not applied.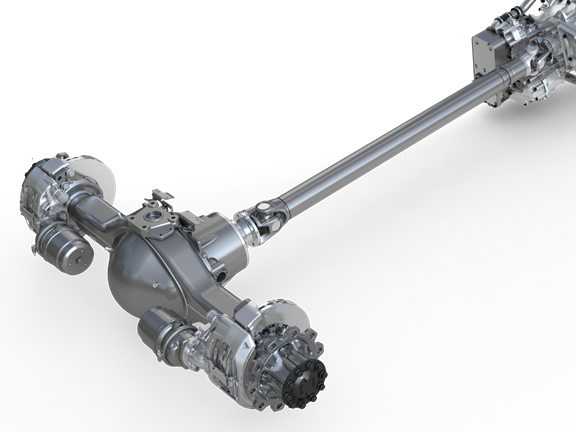 Next level cooling system
With the New Generation XF, XG and XG+, passive cooling is taken to the next-level by adding flow guides for excellent under hood aerodynamics, a full-face air cooler to improve temperature management and cab-mounted encapsulation to enhance airflow. These features ensure minimal fan engagement through optimal use of every kilogram of air that enters the grille. And that simply saves energy.
Excellent bodybuilder-friendliness
The New Generation XF, XG and XG⁺ offer excellent bodybuilder-friendliness through extensive wiring prepared for quick and easy installing all common bodies as well as components like tail lifts.
A wide range of electric and electronic functions for PTO engagement, air suspension settings and body equipment controls for instance, is available to support complex body equipment. Also body attachment modules are available on the chassis for efficient fitment of bodies. 

In addition, to support high bodybuilder-friendliness the New XF, XG and XG⁺ are available with an extensive range of powerful engine, gearbox and flywheel PTOs, adding to the New Generation DAF's class leading efficiency.
With the introduction of the New Generation DAF XF, XG and XG+, DAF is starting a new era with regard to ease of service.
Over-the air-updates for the engine and after-treatment systems, the vehicle ECU, it's Central Security Gateway (CSG) and DAF Connect.
Service-intervals of 125.000 kilometer/year as standard.
For long haulage, a long-drain option is available. This means for all on-road applications a service interval of once-a-year (up to 200,000 km), which is unique in the industry.
DAF MultiSupport offers pan-European repair and maintenance contracts with 24/7 international customer support, which adds to maximum flexibility and vehicle availability.

DAF Connect  >
The DAF Connect fleet management platform gives you real-time insight into the performance of your drivers, vehicles and logistics processes. Available online 24 hours a day, 365 days a year, it helps you increase vehicle availability, reduce operational costs and optimise logistical efficiency.

Repair & Maintenance >
DAF MultiSupport offers an extensive range of repair and maintenance contracts ensuring the highest quality service and support for your vehicles and predictable costs for maximum peace of mind.

DAF dealer network >
With our extensive network of more than 1,100 sales and service dealers, there 's always a DAF dealer nearby ready to give you tailored advice and provide you with expert service throughout the lifetime of your truck.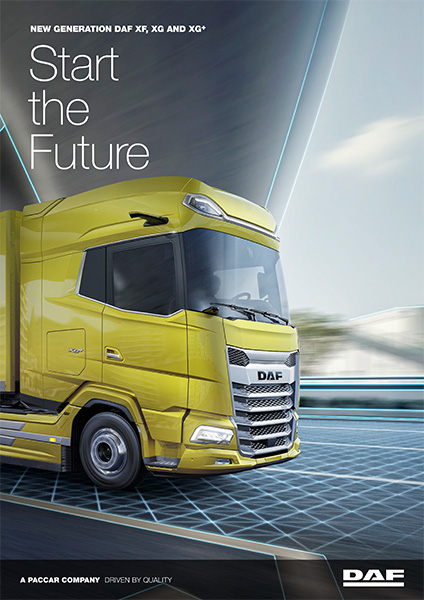 Brochure New Generation DAF XF, XG and XG⁺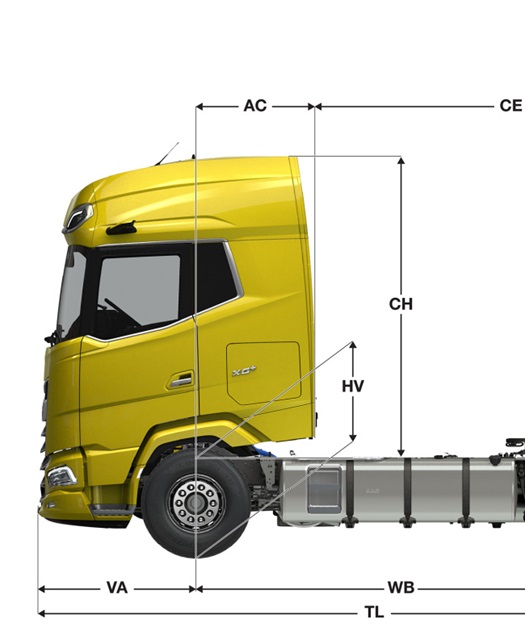 Specification sheets for the New Generation DAF trucks give a quick overview of our newest products in the DAF vehicle program.
Large windows, low window belt lines and the kerb view window set new standards for direct vision. With a robust cab structure, class-leading ergonomics and smart features to make driving safer, the New Generation DAF trucks are the industry leaders when it comes to road safety.
From the driveline to the suspension, from the cab interior to the seats and bunks, every opportunity was seized to deliver superb driver comfort. The result is the smoothest ride on the market combined with the best environment for driving, working and relaxing.