Discover the New Generation DAF XF, XG and XG⁺
The new benchmark in efficiency, safety and driver comfort: 'International Truck of the Year 2022'
When dimensions are given space,
something unique is born
The European Commission has introduced new masses and dimensions regulations with the objective to push the boundaries in terms of both emissions (CO2), traffic safety and driver comfort. DAF is the first of all European truck manufacturers to introduce a full new generation of trucks featuring a highly attractive and very aerodynamic design, using the additional freedom offered by the new legislation.
Class-leading efficiency, safety and driver comfort come together in the game-changing New Generation DAF trucks. That is why they have been awarded 'International Truck of the Year 2022', the most prestigious recognition in the truck industry.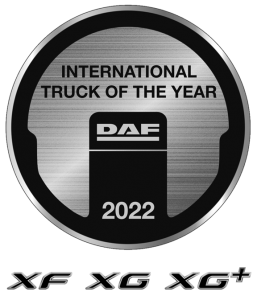 The New XF, XG and XG+ represent DAF new generation of long distance trucks, ready for the future. Taking full advantage of the new European Masses & Dimensions, all three cab variants excel in a beautiful and highly aerodynamic design. In addition, they offer a huge interior space for unmatched driver comfort.
Experience the New Generation DAF trucks, take a virtual test drive and discover many more activities in the DAF Virtual Experience!
Fully aligned with the objectives of the new EU Masses & Dimensions regulations, the New Generation DAF was developed with full focus on the main development criteria: introducing a new industry standard in efficiency, safety and driver comfort.
Unmatched aerodynamics. New highly efficient powertrains. New Driver Assistant systems. Low vehicle weights. All of these contribute to an exemplary gain in fuel efficiency of up to 10%. And vehicle efficiency even goes further!
Large windows, low window belt lines and the kerb view window set new standards for direct vision. With a robust cab structure, class-leading ergonomics and smart features to make driving safer, the New Generation DAF trucks are the industry leaders when it comes to road safety.

Driver comfort of the future
From the driveline to the suspension, from the cab interior to the seats and bunks, every opportunity was seized to deliver superb driver comfort. The result is the smoothest ride on the market combined with the best environment for driving, working and relaxing.

Experience the New Generation DAF in augmented reality
DAF is introducing a new way of experiencing our New Generation DAF trucks. Explore the New Generation DAF XG⁺ in the interactive augmented reality app. Download the app now!
Download the app in App Store or Google Play now!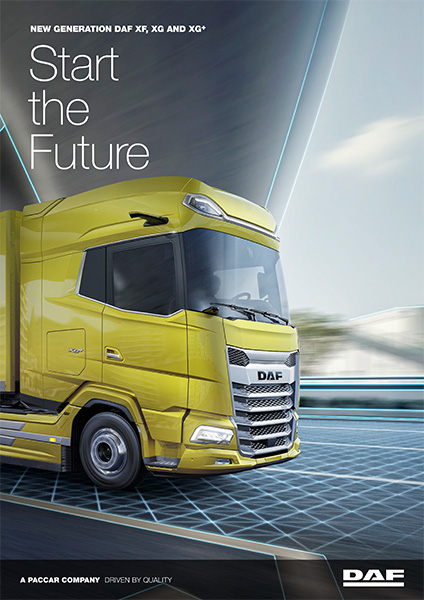 Brochure New Generation DAF XF, XG and XG⁺