Start the Future in Construction
Discover the New Generation DAF XDC and XFC
Optimized for best off-road performance
To optimally meet the specific requirements of operators in the construction sector, the DAF XDC and XFC for vocational and construction applications are available with single or double drive and are designed for the toughest work under harsh conditions. The New Generation XDC with 10.8 liter PACCAR MX-11 engine and XFC with 10.8 liter PACCAR MX-11 and 12.9-liter PACCAR MX-13 engine, offer high payloads thanks to low kerb weights. The sturdy trucks offer a large approach angle and high ground clearance and feature a unique exterior design with a robust bumper and grille and a steel radiator protection plate. The TraXon automated transmission is available with dedicated software settings to support excellent driving behavior, both on and off-road.
The New Generation DAF XDC/XFC Mixer combines a lightweight vehicle chassis with a robust cab structure to deliver a high payload and maximum uptime. Plus, optimized drivelines ensure the smoothest ride even on tough terrain.
Superb traction in difficult terrain
Low chassis weight for maximum payload
• Robust 3-piece steel bumper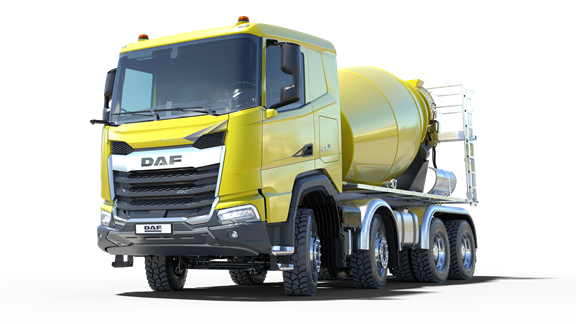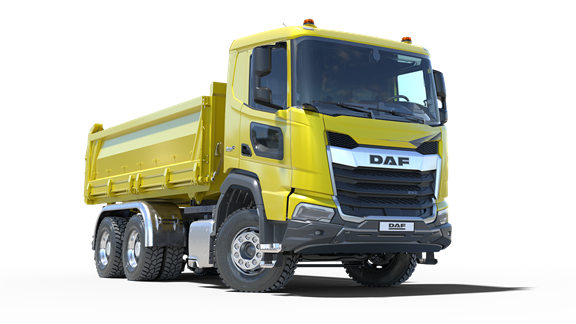 With an extremely robust chassis, 3-piece bumper and a powerful driveline, the New Generation DAF XDC/XFC is suitable for Tipper bodies, designed to meet the toughest of tasks across any terrain.
Extremely robust
Excellent off-road capabilities
High maximum payload
DAF New Generation Flexibility
In addition to the DAF XDC and XDC, DAF has expanded its 2, 3 and 4-axle product portfolio, paving the way to use a New Generation DAF truck for every application in the construction sector. The 3-piece robust steel bumper is also available on all other vehicle configurations, with optional body color, to optimize vehicle applications operating in areas with high curbs and other obstacles.
The New Generation DAF XD/XF with hooklift system features a robust 3-piece bumper and chassis. Powerful drivelines ensure optimal vehicle usability and uptime across any environment or situation.
High payload capabilities
Robust and stable chassis
Excellent off-road handling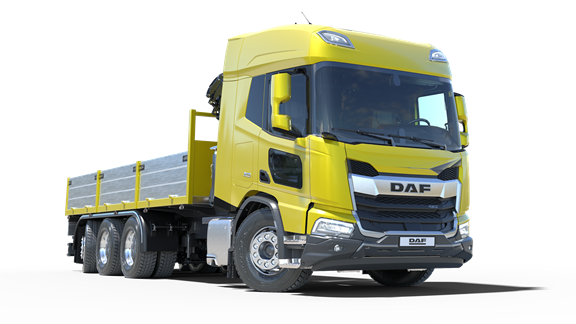 Ideal for delivering building materials to a tight location on a construction site, the New Generation DAF XD/XF Flatbed with crane offers maximum maneuverability and a robust chassis for higher payloads. Built to be highly versatile, the crane can be positioned behind the cab, at the rear of the chassis or create your own tailor-made solution.
Deliverable with 10T rated front axle
Extremely small turning circle
Robust 3-piece steel bumper
Excellent bodybuilder-friendliness
For efficient fitment of bodies, the New Generation DAF trucks are available with a full range of Body Attachment Modules ex-factory. To support high bodybuilder-friendliness the trucks can also be specified with an extensive range of powerful engine, gearbox and flywheel PTOs. The layout of chassis components like the EAS, battery box, AdBlue®, and fuel tanks is flexible for optimal efficiency. In addition, the New Generation trucks provide a wide range of options for controlling equipment from the cab, either by analog means or via the CAN bus, using the MUX-switches.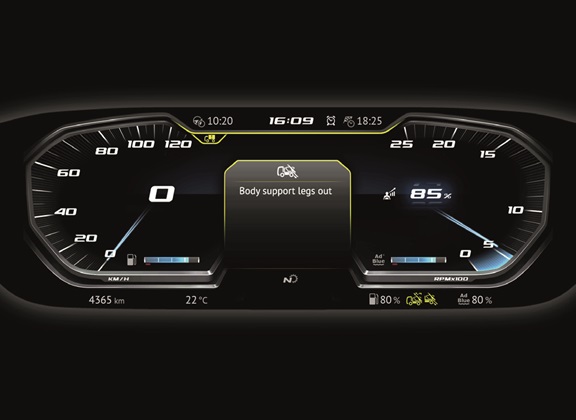 With the introduction of the New Generation series, DAF has strengthened its collaboration with body manufacturers all over Europe. The result is a seamless process where your desired specification is just one click away. This not only ensures an easy fit between chassis and body, but it also enables software integration to simplify data sharing and communications between the DAF dealer, body manufacturer, and you as a customer. Full interaction with the body via the dashboard controls and a wide range of informative symbols on our digital display – all add up to a simplified process and the guaranteed delivery of your perfect DAF.
Efficiency starts with the right choice of truck, tailored to your specific application. Configure your cab, color, exterior, driveline, chassis and more with the 3D DAF Truck Configurator and easily share this configuration with your dealer or body manufacturer.