The New Generation DAF XD is the new efficiency benchmark in the distribution segment. Its outstanding performance – resulting in the lowest emissions – is the result of a highly aerodynamic design and significant innovations to the PACCAR MX-11 driveline with TraXon automated transmission. Favorable vehicle weights and excellent serviceability add to class-leading payload and uptime respectively.
The New DAF XD is about more than stylish good looks. Based on extensive simulations and road tests, the optimal design includes a range of features that produce extremely low air drag by guiding wind around, through and under the vehicle. This boosts fuel efficiency, reduces emissions and makes the New DAF XD a great proposition for your business.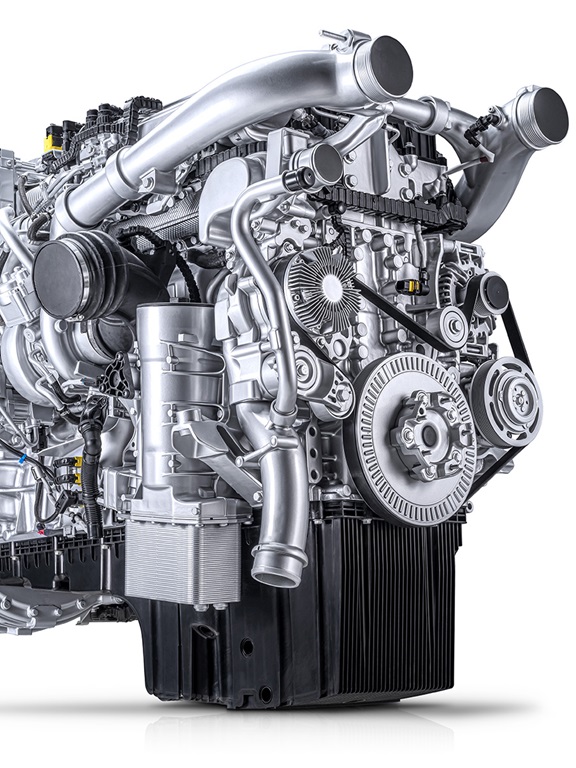 New standard of driveline performance
In the New Generation DAF XD, every aspect of the driveline has been optimised for distribution, starting with the engine. The PACCAR MX-11 engines feature many innovations for unequalled efficiency.
Five ratings are available including the new 220 kW/299 hp and 251 kW/341 hp.
All variants are multi-torque, delivering up to 150 Nm more torque in top gear.
They also offer downspeeding with maximum torque available from just 900 rpm.
The new MX engine brake delivers up to 20% more braking power and at lower revs. The result is a unique braking torque curve that's flat from 1100 to 2100 rpm. This is comparable to the best 13 L engines in the market.
Air management
The New DAF XD has a state of-the-art air intake system. The front intake utilises air at the front of the vehicle and leads it directly through the shortest route to the engine. This routing results in minimal temperature increase, low pressure drop and use of ram air, guaranteeing maximum efficiency.
Engine Aftertreatment System
The unique exhaust-over-chassis construction helps minimize heat loss of exhaust gasses leaving the engine on their way to the Engine Aftertreatment System (EAS). High exhaust gas temperatures guarantee optimal EAS efficiency, supporting lowest possible fuel consumption.
Benchmark cooling system
All New Generation DAF vehicles make optimal use of every kilogramme of air passing through the grille with minimal fan engagement. Next-level flow guides in the grille and cab-mounted encapsulation ensure excellent under bonnet aerodynamics. The result is the best possible passive cooling.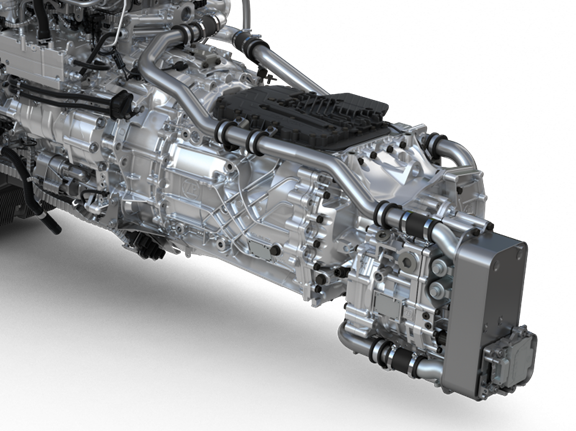 New-generation Traxon automated transmissions
Part of the efficient power trains of the DAF XD is the TraXon automated gearbox of the latest generation. This transmission offers new features, like urge-to-move, which allows precise dosing of the vehicle maneuvering speed through releasing the brake pedal. Automatic drive-off gear selection immediately derives the vehicle's payload from amongst others the air bellow pressure and semi-trailer input to select the optimal drive off gear.
Allison Transmission
Especially for refuse collection applications, DAF offers an Allison fully automatic transmission in combination with the MX-11 engine with 220 kW/299 hp and 251 kW/341 hp. This gearbox features a new transmission control module and new software for lower friction and optimized peak performances, resulting in an even higher fuel efficiency. In addition, the driver will benefit from smooth shifting characteristics.
Smart fuel controls
The New DAF XD has the same advanced features for smart fuel control as the rest of the New Generation DAF series. These include third-generation Predictive Cruise Control along with new EcoRoll functionalities that allow up to 93 km/h at the end of a descent. Optimised EcoRoll prevents unnecessary braking and resulting energy losses. In addition, Preview Downhill Speed Control, combined with the improved MX engine brake, means there's no need for an Intarder. This lowers vehicle weight, increases fuel efficiency, and reduces your vehicles' CO2 emissions. All this contributes to the lowest possible VECTO score.
Highly efficient rear axles
The rear axles have a number of features that help improve efficiency. Lower oil levels and new pinion bearings reduce losses due to friction. The brakes are lower in weight and very robust. And the latest generation light-weight brake callipers are used. These are complemented by a new function called 'Active Calliper Release', which prevents further friction losses.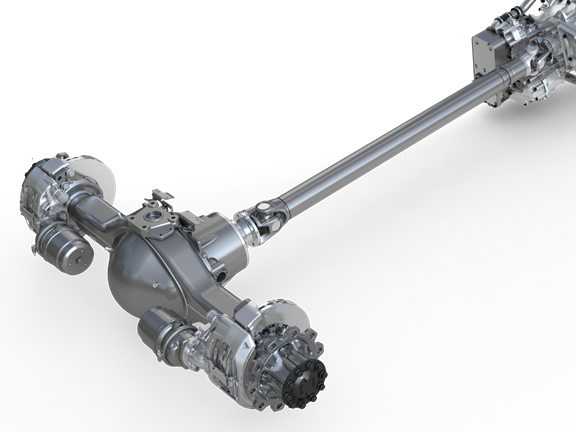 To further optimize fuel and overall efficiency, in the development of the New Generation DAF XD, a lot of attention was paid to realize low vehicle kerb weights. This has been achieved through applying lightweight, high strength steel for the body, in addition to new designs and solutions for roof air deflectors, cab suspension, front-underrun protection, 5th wheel mounting plate and – for example – the engine. Result of efforts is favorable kerb weight for all versions.
Excellent bodybuilder-friendliness
Extensive availability of PTO's, body attachment modules and connectors facilitate excellent bodybuilder-friendliness, which is also supported by the highly flexible lay-out of chassis components like the EAS, battery box and AdBlue® as well as fuel tanks for optimal efficiency.
With the introduction of the New Generation DAF, DAF is starting a new era with regard to ease of service.
Over-the air-updates for the engine and after-treatment systems, the vehicle ECU, it's Central Security Gateway (CSG) and DAF Connect.
Redesigned vehicle diagnostics to guide the mechanic even more directly to the root cause of an issue in the rare case that might occur.
Service-intervals of 125.000 kilometer/year as standard.
For long haul applications a long-drain option is available, resulting in service intervals of up to 200,000 kilometer.
This means for all on-road applications a service interval of once-a-year, which is unique in the industry.
DAF MultiSupport offers pan-European repair and maintenance, resulting in maximum flexibility and operational vehicle availability.
DAF Connect 'Connected Navigation' offers real life traffic information as well as the possibility to send driving routes from home base to truck for highest efficiency.
Driver comfort of the future