The DAF LF comes standard with enhanced features that not only ensure the highest possible safety of the driver and other road users, but also contribute to vehicle versatility, fuel efficiency and comfort, no matter what business segment you are in.
Advanced Emergency Braking System
Forward Collision Warning
Adaptive Cruise Control
Lane Departure Warning System
The DAF LF (from 8 tonnes GVW and with rear air suspension) comes standard with Advanced Emergency Braking System (AEBS), Forward Collision Warning (FCW), Adaptive Cruise Control (ACC) and Lane Departure Warning System (LDWS).
AEBS and FCW prevent collisions in an emergency situation by automatically applying the brakes if necessary.
Adaptive Cruise Control (ACC) automatically adjusts the speed of the truck to match the speed of the vehicle it is following and, as a result, a safe distance is maintained between the two vehicles. This enables cruise control to be used as much as possible, which provides a fuel economy benefit.
Lane Departure Warning (LDWS) works with a camera mounted on the windscreen and if the truck unintentionally strays from its lane, the driver is given an audible warning.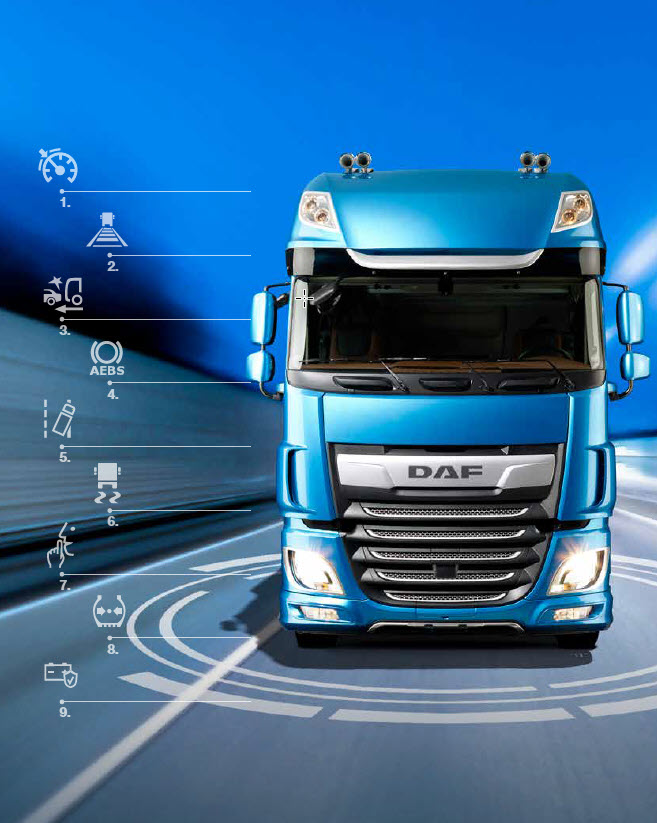 Our comfort and safety systems explained in a video:
Efficiency starts with the right choice of truck, tailored to your specific application. Configure your cab, colour, exterior, driveline, chassis and more with the 3D DAF Truck Configurator.