Top Line choose DAF Trucks
ERGOTRAK, member of the Sfakianakis Group, handed over to the transport company Top Line a DAF CF 450FA Low Deck Euro 6 with a modern train car. The delivery took place at the premises of the transport company in Aspropyrgos.
The cabin is white, non-metallic, Sleeper type. The main and wide-angle mirrors are electrically adjustable and heated. The CF is equipped with the most modern safety systems helping the driver to overcome difficult driving situations every day. Top of all the Adaptive Cruise Control system which includes frontal collision function (FCW) and advanced emergency braking system (AEBS). It is also equipped with the Lane Departure Warning System, which constantly informs the driver if another vehicle is moving on the left or right side of the truck. The electronic vehicle stability control system (VSC) helps prevent the vehicle from folding and tipping over. In addition, the engine immobilizer has a fuel stop and starter circuit breaker.
The CF is equipped with the MX-11 diesel engine, with 6 cylinders and a capacity of 10.8 liters. Its output is 449 hp at 1,600 rpm and 2,300 Nm of torque from 950 to 1,125 rpm. for the last gear ratio, while for the other ratios the torque is 2,200 Nm in the same speed range. Meets pollutant specifications in accordance with Euro 6 OBD-C. After five minutes of idle operation, the engine shuts off to save fuel and reduce pollution. Works with the TraXon 12TX2210, 12-speed automated transmission with a final gear ratio of 2.38.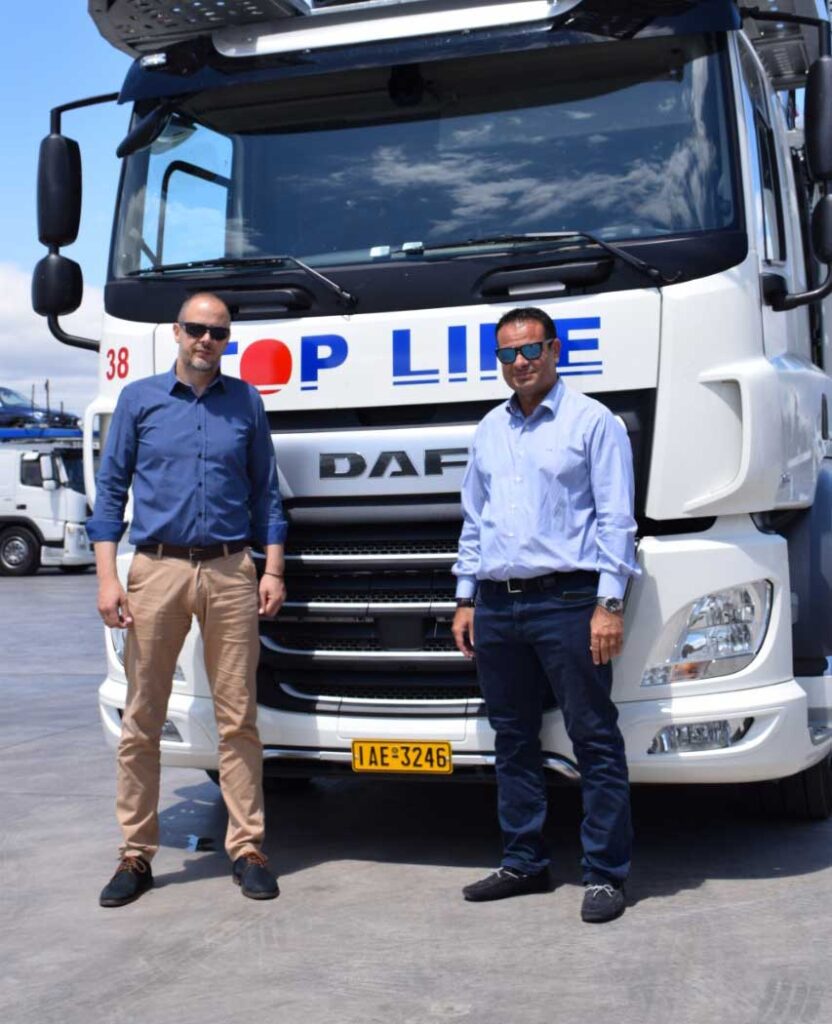 The driver of the DAF CF of the company Topline is George Soulidis who shared his experience with the DAF CF truck. "First of all, I like the ease of access inside the cabin. I have to go up and down several times every day, so its low stairs make it much easier for me. I do not get tired and I think that the low cabin is ergonomic and functional for the needs of our work.
I also like that it has a lot of storage space which is easily accessible. Even the visibility from the driving position is good in all directions. On the road the number one advantage of the car I consider to be its engine. It has a good response and quickly catches high speeds. I also want to emphasize that it is very economical according to the data recorded by the trip computer. For the needs of our work, the specific horsepower and torque are ideal (449 hp and 2,300 Nm). In addition, its cooperation with the 12-speed automatic transmission is good, changing gears smoothly. In general, I consider the DAF CF a complete car in all respects. "