Coolant Specifications
The cooling system must be filled with a ready-mixed coolant containing antifreeze and corrosion-inhibiting additives.
Coolant identification
A sticker behind the grille states the information on the coolant used.
Approved Coolants
The table below lists the current suppliers that meet DAF specification 74002; the mixtures available are 40% glycol and 60% water and also 50% glycol and 50% water.
The cooling system must not be filled with coolants other than those specified in this overview.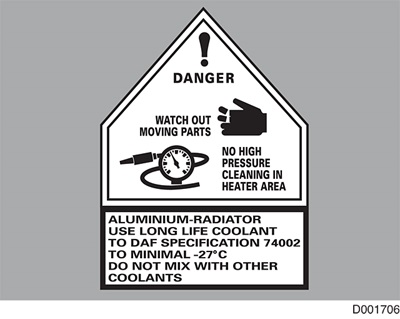 | Brand name | Supplier |
| --- | --- |
| DAF Xtreme Longlife Coolant | DAF Trucks N.V. |
| TRP Long Life Coolant | DAF Trucks N.V. |
| Havoline XLC | Arteco |
| DELO XLC Antifreeze / Coolant | Chevron / Texaco |
| Havoline Xtended Life Coolant | Chevron / Texaco |
| Caltex Extended Life Coolant | Caltex |
| Glacelf Auto Supra/Coolelf Auto Supra | Total |
| NIS a.d. Novi Sad | Nisotec Antifriz Long Life 100 |
| Maxigel Plus/Ultracooling Plus | Renault Truck Oils |
| BP Procool | BP |
| Castrol Radicool SF Premix | Castrol |
| Castrol Radicool SF | Castrol |
| Inugel Optimal/Inugel Optimal Ultra | Motul |
| Yacco LR Organique | Yacco |
| Petrol Antifriz Koncentrat | Petrol |
| Protex Long Life/Coolmix LL | Orvema |
| Protex Long Life | Orvema |
| Coolmix LL -38 | Orvema |
| Technocooling SMB | SMB Auto |
| York 718 | York SAS |
| Coolant Maxmaster Truckcool | Platinum Oil Wielkopolskie Centrum Dystrybucji |
| OPET EXTENDED LIFE ANTIFREEZE | OPET FUCHS Madeni Yağ A.Ş. |
| Maintain Fricofin LL | Fuchs Europe Schmierstoffe GMBH |
| Fricofin LL 50/50 | Fuchs Europe Schmierstoffe GMBH |
| Coolant concentrate Maxmaster Redcool | Platinum Oil Wielkopolskie Centrum Dystrybucji |
| Glysantin G 30-91 | BASF |
| Polar Premium Longlife Antifreeze | Telko |
| Zero Longlife Antifreeze | Telko |
| Kuehlerfrostschutz KFS 12 Plus | LIQUI MOLY |
| Kuehlerfrostschutz KFS 2001 Plus | LIQUI MOLY |
| PrixMax MEG95 | PrixMax Australia Pty Ltd. |
| Langzeit-Kuehlerfrostschutz GTL 12 Plus | LIQUI MOLY |
| Coolant Ready Mix RAF 12 Plus | LIQUI MOLY |
| Repsol anticongelante refrigerante organico maximum quality | Repsol lubricantes y especialidades, S.A. |
| Shell Engine Coolant Longlife | Kemetyl Group Ltd |
| Shell Premium Antifreeze Longlife | Kemetyl Group Ltd |
| Kemetyl Glycocool Longlife Antifreeze 774 D-F | Kemetyl Group Ltd |
| Kemetyl Carix Premium Longlife | Kemetyl Group Ltd |
| Sheron Antifreeze Maxi D | DF Partner s.r.o. |
| EVOX Premium Concentrate | MOL-LUB Kft |
| Glixol Extra Long Life | Organika CAR S.A. |
| Glixol Extra Long Life -37 | Organika CAR S.A. |
| Glixol G12+ Long Life | Organika CAR S.A.. |
| Glixol G12+ Long Life-37 | Organika CAR S.A.. |
| Glixol Long Life G12/12+ | Organika CAR S.A. |
| Glixol Long Life G12/12+ | Organika CAR S.A. |
| Petrygo Bus-37 | Orlen Oil Sp. Z o.o. |
| Orlen Petrygo Plus | Orlen Oil Sp. Z o.o. |
| AVIATICON Finkofreeze F30 | Finke Mineralölwerk GmbH |
| AntiFreeze SP12 | Kroon Oil (NL) |
| Coolant SP12 | Kroon Oil (NL) |